When it comes to construction projects, legal disputes are unfortunately very common. Since there are so many different contracts, businesses, and individuals involved in a typical construction project, a lot can go awry.  Whether the resulting losses are due to deliberate fraud, recklessness, or simple negligence, the Business Trial Group has extensive knowledge and experience with construction litigation.
Our team includes board certified construction law attorneys.
Drawing from our decades of litigation experience, the Business Trial Group understands the nuances of construction litigation. But unlike other law firms, we handle construction cases on a contingency-fee basis, which means that we do not charge hourly fees or retainers, and you pay nothing unless and until we are successful.
Contingency-fee litigation is invaluable in construction disputes because it allows our clients to pursue the full amount they are contractually owed, without fear of high hourly attorneys' fees making litigation unsustainable. And our results for our construction clients – more than ten million dollars of verdicts and settlements – speak for themselves.
BOARD CERTIFIED EXPERTISE IN CONSTRUCTION LAW
The Business Trial Group's construction litigation practice is led by a specialist who is Board Certified by the Florida Bar.  Board certification recognizes an attorney as an expert in construction law and requires an attorney to have special knowledge, skills, proficiency, professionalism, and ethics.
Less than 1 percent of all Florida attorneys are board certified in construction law. Our construction attorneys' ultimate goal is to use their experience and resources to maximize the potential recovery in your case.
A TRACK RECORD OF WINNING CONSTRUCTION LAWSUITS
Our experienced construction attorneys have a track record of winning in a variety of construction disputes. For example:
Received a $3,800,000 jury verdict on behalf of a community association for construction defects in its roadways and drainage systems.
Received a $2+ million recovery in construction defect litigation.
Received a $1.5 million recovery for design and engineering malpractice.

TYPES OF CONSTRUCTION CLAIMS
The Business Trial Group attorneys are prepared to assist you with any type of construction claim. Below are a few common disputes that we have successfully resolved on behalf of our clients.
CONSTRUCTION DEFECTS AND DELAYS
Construction defects can affect the sales prospects and performance of a property. More often than not, construction defects are hidden and not discovered by our clients until several years after the work was performed. For example, defects in a roof may not become apparent until after a slow leak has had sufficient time to works its way into the interior of the building, only then causing visible water damage.
Other common types of construction defects include improperly applied stucco, leaky windows and doors, negatively sloped balconies that cause ponding water, building code violations, and other structural deficiencies.  
Construction delays can be more complex, because many contracts contain language absolving the contractors of responsibility for delays. It is important to note, however, that such clauses are void in the event that the delay is the result of deliberate fraud or bad faith.
Regardless of the type of construction defect or delay, our attorneys can help you navigate the legal process and maximize the opportunity to recover your losses.
NEGLIGENT DESIGN
Negligent design in real estate affects the owners and tenants of both existing and new properties.
An increasing number of regulations dictate the minimum building requirements for new buildings and properties. These requirements have to do with structural integrity, accessibility, and environmental impact.
Building codes address areas of concern such as:
Placement of a property in relation to heavy traffic areas
The integrity of foundational elements like walls, flooring, and roofs
Environmental requirements to reduce the negative impact of certain materials and structural elements
Compliance with the Fair Housing Act, which requires reasonable accommodations for people with disabilities
If you may have suffered an injury or other significant grievance as the result of negligent design, you would most likely need to demonstrate that the structural flaw violated building codes and/or that the deficiencies were knowingly designed.
ENGINEER AND ARCHITECT MALPRACTICE
Malpractice and negligence can be committed by almost anyone involved in the construction process, including design professionals, architects, and engineers. When you sign a contract with someone, it is their obligation to deliver the goods or services in that contract as specified.
Professionals who do not meet their standard of care can be held accountable for their actions. Here are some of the common grievances that can prompt legal action:
Building or designing a property with serious problems, such as plumbing issues or roofing defects
Failure to provide adequate supervision in a building project, resulting in structural defects, delays or other otherwise preventable issues that have financial repercussions
Taking far longer than specified to finish a project, as a result of a deliberate scheme to collect more earnings
Failure to understand or comply with laws related to construction practices, such as building codes
Building properties in violation of environmental standards, or in such a way that causes unreasonable environmental or health concerns
It can be difficult to know whether the behavior you have experienced or witnessed constitutes construction malpractice. The Business Trial Group has in-depth understanding of the law related to these types of claims, and we will help you determine whether you can pursue legal action.
Malpractice claims often require experts in the relevant field to provide testimony. Expert testimony can help establish the legal standards involved so that any deviation from those standards can be made transparent. In the event that your case goes to trial, the jury has to be convinced that the actions for which you are suing were outside of the bounds of the law and any reasonable professional standards.
With our firm's expansive connections in the architectural and engineering fields, we have the resources to provide qualified experts who can testify to the improper conduct you have experienced.
OTHER CONSTRUCTION DISPUTES
Our construction dispute attorneys can assist you with many other types of claims.
For example, a common legal issue that arises with construction projects is failure to pay for work performed.  We regularly represent all types of contractors in payment and performance bond claims. Because we handle these claims on a contingency-fee basis, our clients are not subjected to additional financial pressure above and beyond their unpaid work.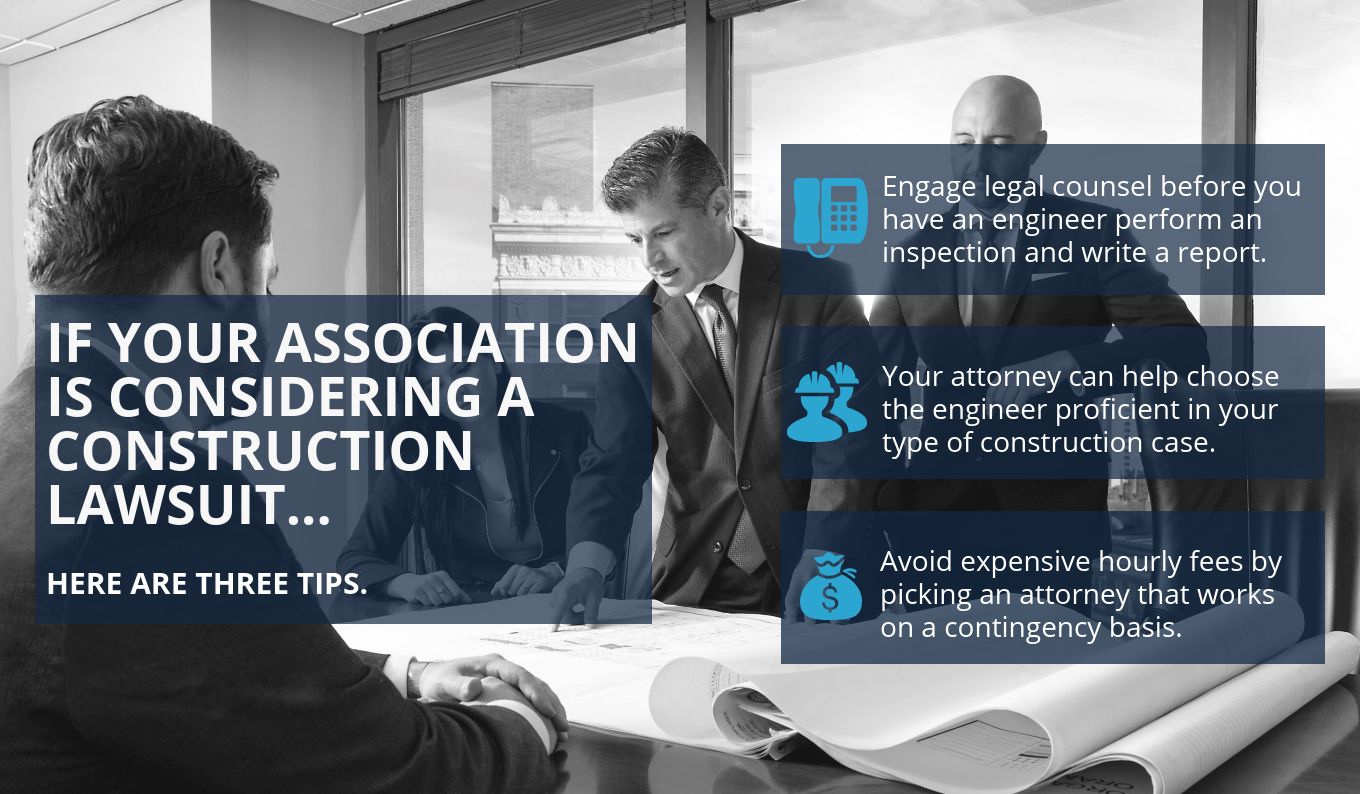 WHAT ARE THE STATUTE OF LIMITATIONS FOR CONSTRUCTION DEFECT LAWSUITS?
A statute of limitations – or the period of time in which the lawsuit must be filed after the initial offense – applies to most types of lawsuits. A construction defect lawsuit must be filed within four years of whichever occurred most recently:
The date of actual possession by the owner
The date of the issuance of a certificate of occupancy
The date of abandonment of construction if not completed
The date of completion or termination of the contract between the professional engineer, registered architect or licensed contractors and his or her employer
If, however, a construction lawsuit involves a latent defect, the statute of limitations runs from the time the defect is discovered or should have been discovered with the exercise of due diligence. In no event can a construction defect claim be filed more than 10 years after the latest of these dates.
Construction litigation can take time to resolve, so it is important to seek legal representation as soon as possible. Waiting too long may cause you to miss your window to recover your losses.
EXPERIENCED REPRESENTATION FOR YOUR CONSTRUCTION DISPUTE
Our attorneys will evaluate your case and help you determine whether there is sufficient evidence and legal grounds to pursue your claims. With our contingency-fee model, the Business Trial Group will never charge you hourly fees or retainers, and will not charge you unless we get results.
To find out if you may have a viable construction claim, contact us via our no-fee, no-obligation form or call 888-343-8073.
CLIENT REVIEWS
"The Morgan & Morgan Business Trial Group handled my case against a major security company. I was amazed at the amount I received in the lawsuit. Not only was their research for the case very thorough, their concern for me and all those involved with the case was heartwarming and set me at ease."
N.D
"I obtained excellent service, and my attorneys did everything possible to promptly resolve my case. The lawyers who helped me, Benjamin Webster and Arletys Rodriguez, are excellent professionals with infinite human quality."
C.F.
"The Morgan & Morgan Business Trial Group helped our family get through a rough time in representing us on a breach of an oral contract. Our group of lawyers, William and Arletys, were highly professional, knowledgeable, caring, reliable, and very compassionate with all of us, especially to our 92-year-old father."
de la Paz family
"I want to express my sincere appreciation for representing me in a case against my debtors. Not only were you successful in obtaining an equitable judgment on my behalf, but it was done is such a manner that made it affordable … even for me!"
B.M.
"I had to reread the documentation to make sure it was not a dream. I cannot thank you enough for handling this to a full-payment settlement. You did a fantastic job in a ridiculous situation."
C.S.