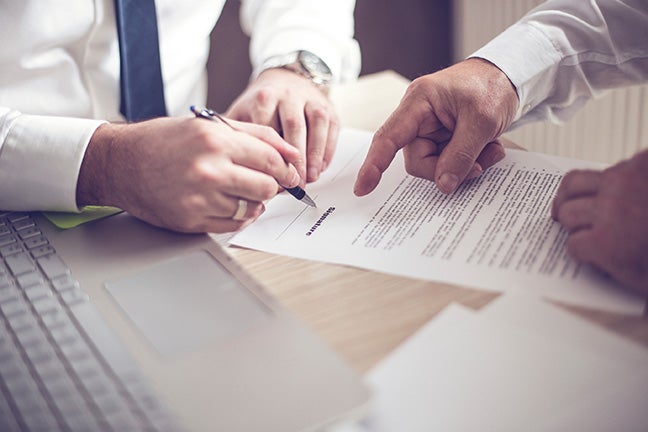 What Can You Do if You Are Not Paid the Full Amount of Your Contract?
Unfortunately, an all too common issue for contractors is what to do if they are not paid the full amount they are owed for their work—even when the contract was properly and fully performed.
On the surface, reneging on promises would appear to be bad business, not only from a conscientious standpoint, but also because burning bridges can make it difficult to conduct future business.
Businesspeople may renege on promises simply because they can get away with it.
There's a simple reason, however, why businesspeople might not pay contractors in full: they can get away with it, since it will cost the contractors more to sue than it will to just take the loss.
This strategy relies on the premise that the contractor will need to pay an attorney hundreds of dollars an hour to attempt to recover the money owed, which can quickly make litigation untenable for the average businessperson.
The Business Trial Group offers our clients a solution to this underhanded strategy. We handle cases on a contingency-fee basis, which means our clients don't pay hourly attorneys' fees, and pay no fees unless we win.
In addition to not charging hourly fees, the Business Trial Group may, depending on the case, be able to recover our clients' attorney fees based on contractual provisions or state law. As a consequence, our clients turn the tables on wealthier defendants and can pursue the full amounts they are contractually owed.
Is the prospect of high legal bills is keeping you from litigating a contract dispute? The Business Trial Group can help.
Well-Funded Litigants Can Exploit Contract Law
U.S. law generally requires each party to a lawsuit to pay its own attorney fees. While this rule can encourage more equal access to justice, it can also lead to a situation where a well-funded defendant drags out a case and drives up the legal fees to the point where taking a loss is the better choice for the plaintiff.
For example, if a contractor enters into an agreement to perform painting work at an apartment complex for $250,000 and, upon satisfactorily completing the work, the apartment complex owner refuses to pay, the contractor can file a breach of contract lawsuit to recover the unpaid money.
But if the contractor's legal fees hit $25,000 – $50,000—which is on the very low end of the cost of prosecuting a business lawsuit—the profit margin on the contract will effectively be wiped out. The lawsuit essentially becomes a no-win situation. As a result, many contractors give up their legal fight, settle their cases for less than they are worth, go bankrupt, or even go out of business.
Knowing this, defendants can offer contractors a lower amount than what is owed and force them to drop the case.
This is an example of how hourly attorneys' fees create a "Justice Gap" for small business owners that cannot afford the high cost of business litigation.
Contingency-Fee Litigation Levels the Playing Field
Business owners shouldn't have to choose between not getting paid in full and going broke from legal fees. And they don't have to when they work with the Business Trial Group.
For our lawyers, contingency-fee litigation creates a powerful incentive to prevail in a case—not to just drag it out and continue billing. For our clients, paying only for results allows them to go up against powerful individuals and organizations that could otherwise use their financial strength as an unfair advantage.
Learn how contingency-fee litigation can help your business during a free case review.