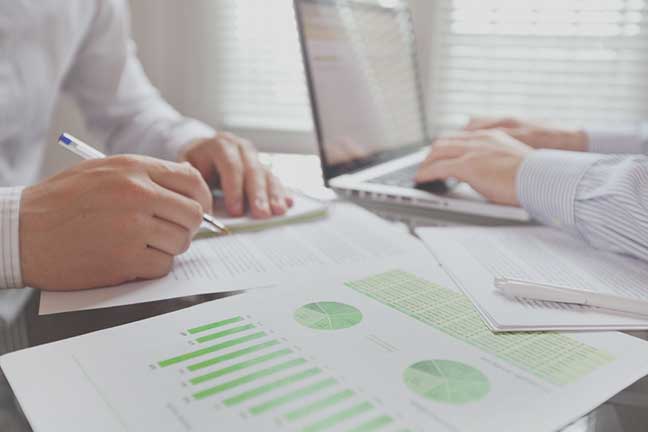 Should You Trust Your Financial Adviser?
Widespread financial adviser misconduct costs investors hundreds of millions of dollars per year, new research shows.
The first ever large-scale study of misconduct by financials advisers and financial advisory firms finds that bad behavior tends to cluster around repeat offenders at an individual and an organizational level, with many advisers who get fired for misconduct landing at large firms with high misconduct rates. This concentration, the authors suggest, is not the result of random mistakes, but of firms targeting vulnerable customers.
Business Trial Group attorneys have successfully represented clients in lawsuits against firms that persistently engage in broker misconduct, including Oppenheimer, Wells Fargo, and Raymond James.
If you have reason to believe your financial adviser has acted fraudulently or is not acting in your best interests, contact the Business Trial Group for a free case review.
Key Findings from FINRA Database Analysis
Researchers from the University of Minnesota, the University of Chicago, and Stanford collaborated on an economy-wide analysis of financial adviser misconduct in the United States in order to document the extent of unscrupulous behavior in an industry that many Americans rely upon, but few trust.
Financial advisers consistently rank among the least trustworthy professionals.
Trusting one's financial advisor is crucial, they argue, because stockbrokers are experts relative to investors, making it difficult for customers to gauge the level of services and creating the potential for abuse. Financial advisers consistently rank among the least trustworthy professionals, surveys reveal.
Mistrust of brokers seems to be justified, according to "The Market for Financial Adviser Misconduct," which found that misconduct is an industry-wide problem.
"It's everywhere, not just small firms. It is pervasive," said study co-author Amit Seru.
But while misconduct is widespread, it is not spread equally across the industry. Several of the largest financial advisory firms displayed a pattern of misconduct against financially unknowledgeable customers. "Such firms are more tolerant of misconduct, hiring advisers with unscrupulous records," the researchers write.
Conversely, firms with a low tolerance for misconduct use their clean records to attract knowledgeable customers.
Other key findings from the study include:
About 7% of financial advisers have records of misconduct.
At some large brokerages, more than 15% of advisers have misconduct records.
Misconduct is concentrated in financial firms with retail customers and in counties with low education, elderly populations, and high incomes(including areas like Palm Beach, Florida, where 18% of advisers had misconduct records).
Prior offenders are five times more likely than the average adviser to engage in misconduct.
Roughly 50% of advisers are fired as a result of misconduct; of these, 44% are reemployed in finance within a year.
Nearly 3 in 4 financial advisers disciplined for misconduct are still active after a year.
Firms that hire past offenders tend to have higher rates of misconduct.
Oppenheimer & Co., First Allied Securities, Wells Fargo, UBS Financial Services, and Cetera Advisors are among the financial firms consistently engaging in misconduct.
Brokerages with the lowest misconduct rates include Morgan Stanley, Goldman Sachs, BNP Paribas, SunTrust Robinson Humphrey, and BlackRock Investments.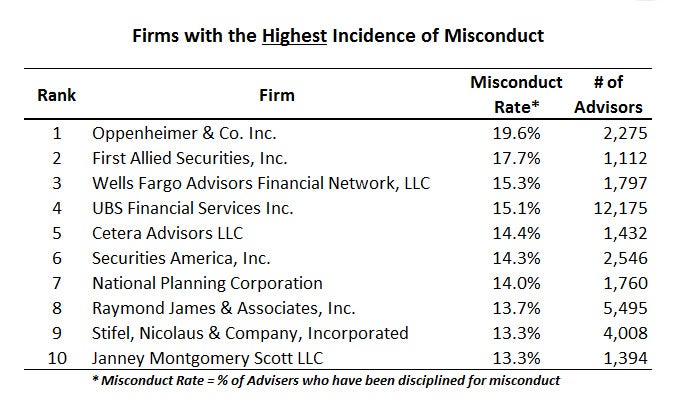 To count as misconduct, disputes must have settled (not be dismissed or pending). Misconduct includes activities such as recommending unsuitable investment products, misrepresentation, omission of key facts, recommending risky investments, unauthorized activity, negligence, fraud, and breach of fiduciary duty.
True financial misconduct levels are likely higher than the study estimates, according to the researchers.
How Investors Can Protect Themselves
Financial advisers help manage more than $30 trillion of investible assets and provide services to fifty-six percent of U.S. households.
Yet the Securities and Exchange Commission reports that most Americans don't conduct a broker background check, while those who do rely on search engine results.
Failure to perform a comprehensive background check can be costly. The median settlement paid to consumers is $40,000—nearly 60% of the average household's net worth. One-quarter of settlements exceed $120,000. Over a recent two-year period, financial industry misconduct settlements totaled $974 million.
The FINRA Broker Check database (the same database used by the study authors) is a free, easy way for customers to run an advisor background check. Checks can be performed using an adviser's name, or their unique CRD number.
Suspicious broker activity should be reported to FINRA and the SEC. Anyone who suspects broker misconduct may also wish to consult with the securities attorneys of the Business Trial Group.
Pay Nothing Unless We Successfully Resolve Your Case
While brokers who commit misconduct are allowed to continue working in the financial industry with few consequences, victims of broker fraud and negligence have no guarantees that they'll be reimbursed for investment losses. In fact, fewer than half of the misconduct disclosures found in the study resulted in settlements or other payments to customers.
Large investment firms such as Oppenheimer and Wells Fargo earn billions of dollars in revenue per year. These powerful companies ordinarily have an advantage in legal disputes, even when they're in the wrong, since they can afford more legal costs than the average investor can.
The Business Trial Group's contingency-fee model, considerable resources, and legal expertise level the playing field for investors seeking to recover misconduct-related losses.
Find out whether you can recover your investment losses during a free case review.