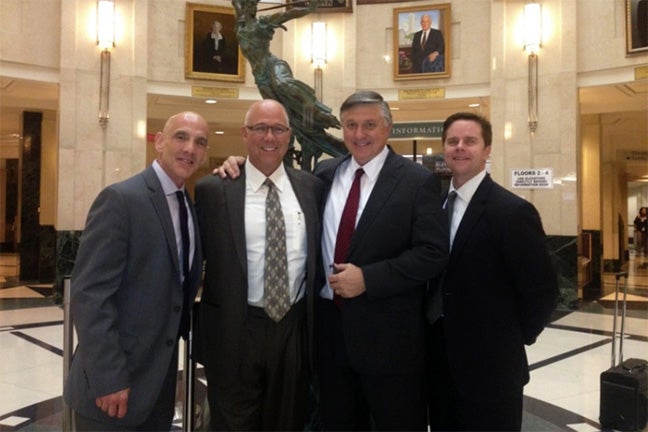 Business Trial Group Wins $14.5M for Defrauded Developers
After a two-week trial in the Complex Business Litigation Court, an Orange County jury issued verdicts totaling $14,500,000 in favor of plaintiffs Good Gateway LLC and SEG Gateway LLC on July 16, 2014.
"These fair-minded jurors heard the truth from our clients and delivered a just result."
The plaintiffs, developers of the 120-acre, $500 million Orlando Gateway mixed-use development project adjacent to the Orlando International Airport, alleged that Orlando Gateway Partners LLC and other defendants fraudulently deprived them of their membership interest in the project, which broke ground in 2009. The plaintiffs brought contract and tort claims including, among others, breach of the operating agreement, conversion, breach of fiduciary duty, tortious interference, conspiracy to commit civil theft, and constructive fraud.
The Court also ruled, after five evidentiary hearings, that the defendants committed fraud on the Court and sanctioned them with an adverse jury instruction for concealing material evidence and believability.
Good Gateway LLC and SEG Gateway LLC were represented by Clay M. Townsend, Keith R. Mitnik, and John W. Dill of Morgan & Morgan's Business Trial Group.
Following nearly four years of litigation, the plaintiffs had their day in court and the attorneys of the Business Trial Group helped them achieve justice. Commenting on the verdict, attorney Clay Townsend said, "these fair-minded jurors heard the truth from our clients and delivered a just result—this is an illustration of the power of our judicial system."
About the Business Trial Group
Morgan & Morgan's Business Trial Group is a team of trial attorneys focused solely on contingency-fee business litigation.
Contingency-fee litigation—a rare billing model in complex business litigation—is a more equitable form of representation, as it requires no up-front attorney fees. Our attorneys only collect legal fees if we win for our clients. If we don't win, our clients pay nothing. This model allows business plaintiffs to go up against much better-funded opponents and take their case all the way to trial, without fear of prohibitively high fees.
The Business Trial Group has successfully recovered millions of dollars through verdicts and settlements in a wide variety of commercial litigation and securities cases. On many occasions, we have been able to achieve justice for clients who would have otherwise been barred access to quality representation due to high hourly attorney fees.
There's a strong possibility that four years of litigation with a business litigation firm that charges hourly rates would have, in this case, forced plaintiffs Good Gateway LLC and SEG Gateway LLC, which were going up financially powerful corporate interests, to accept less than what they were owed, or to give up the legal fight. But thanks to the Business Trial Group's contingency-fee approach, the plaintiffs were able to have their day in court and achieve a just result.
Find out if you have a case during a free case review.