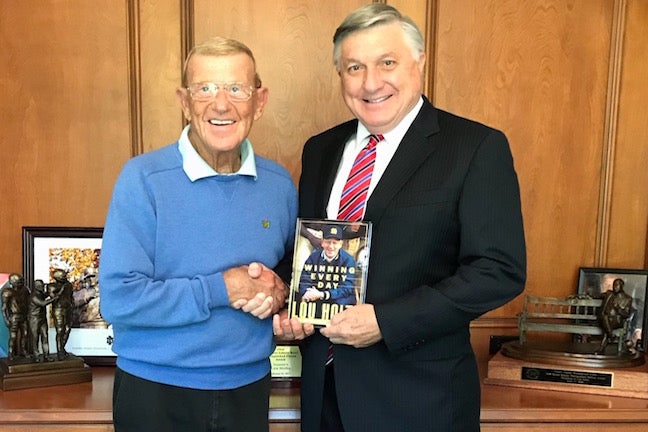 Business Trial Group Resolves Defamation Lawsuit Brought by Lou Holtz
Hall of Fame football coach Lou Holtz and news site The Daily Beast have amicably resolved the defamation lawsuit Morgan & Morgan's Business Trial Group filed last December on Mr. Holtz's behalf. Full terms of the settlement were not disclosed, but as part of the agreement The Daily Beast issued this public apology:
The Daily Beast ran a story on July 19, 2016 with the headline "Lou Holtz at RNC Says Immigrants Are Deadbeats Invading the U.S." In his speech, Mr. Holtz did not say that immigrants are deadbeats, nor did he use the word "deadbeat" at all, and we are happy to have corrected the headline to reflect this at the time. While The Daily Beast stands by the rest of its story, we recognize that Mr. Holtz also spoke to the audience about his poor grandparents, who themselves immigrated to the United States and were processed through Ellis Island. The Daily Beast sincerely regrets the error in the headline and that Mr. Holtz was embarrassed and hurt by this error.
The Daily Beast also agreed to remove all mention of the erroneous headline from its Facebook and Twitter accounts. It did not admit any liability regarding the defamation claim.
"The Daily Beast sincerely regrets the error in the headline."
Mr. Holtz—whose football coaching career spanned four decades and included stops at the University of Notre Dame, University of South Carolina, University of Arkansas, and the New York Jets—was represented by Morgan & Morgan attorneys Clay Townsend and Keith Mitnik.
 "We are proud to have represented Coach Holtz," said Mr. Townsend. "His reputation is of paramount importance to him and he is proud of his immigrant ancestors. It is important for people to know that Coach Holtz's speech actually contained a positive and inspiring message of unity."
Lawsuit Alleged Financial, Reputational Harm
Now retired from coaching, Mr. Holtz is an Orlando resident who derives the bulk of his income from speaking engagements. The lawsuit claimed that his reputation and ability to derive income from these engagements suffered because of The Daily Beast's headline.
The complaint also stated that The Daily Beast had launched "a public assault on Mr. Holtz and his public speaking business," and that "the articles were clearly antagonistic to Mr. Holtz and malicious, rather than journalistic or mere expressions of opinion."
"I hope this encourages other people to fight for what they believe is right."
After The Daily Beast published the article, the complaint noted that numerous other media outlets with tens of thousands of readers republished, linked to, and/or quoted the original article, which further damaged Mr. Holtz's reputation and business.
Regarding the successful resolution of the lawsuit, Mr. Holtz said, "Never easy to fight for what you believe in, but I am convinced it is important to do so. I want to thank Clay Townsend, Keith Mitnik, and Morgan & Morgan for their confidence in my case and their ability to resolve this issue to my satisfaction."
Mr. Holtz added, "I hope this encourages other people to fight for what they believe is right."
Business Trial Group Is One of a Kind
By retaining the Business Trial Group, Lou Holtz joined a high-profile list of clients that includes Catherine Zeta-Jones, Michael Douglas, The Backstreet Boys, and the Harlem Globetrotters.
The Business Trial Group is unique in that it operates on a contingency fee basis, instead of charging by the hour to litigate commercial disputes. To discuss your legal rights or learn more about the Business Trial Group, contact us at 407-245-3505 or fill out a free case review form.