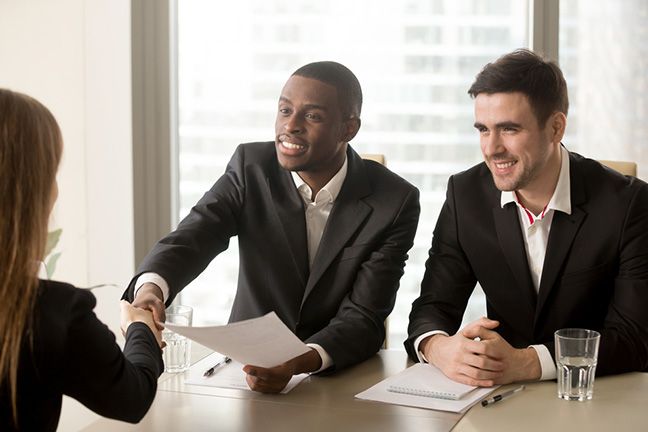 How Recruiters Can Recover Unpaid Compensation
When a third party recruiter submits a job candidate to a company and the company hires that candidate, the recruiter is typically entitled to compensation in the form of a recruitment fee (or placement fee). But in some cases, a company hires a candidate provided by a recruiter but fails to pay the recruiter.
We have recovered unpaid commissions for recruiters on a contingency-fee basis.
Recruiters who are not paid for their services may be able to file a lawsuit to recover the compensation they are owed. This includes recruiters who recruit and place candidates such as doctors, nurses, lawyers, paralegals, executives, directors, financial advisors, and numerous others.
The Business Trial Group has successfully resolved numerous unpaid commission claims for recruiters. Because we handle these matters on a contingency-fee basis, our clients pay no upfront fees, and no fee at all unless we recover compensation for them.
If you have not been paid for recruitment services, contact the Business Trial Group for a no-cost and no-obligation case review.
A Recruiter is Entitled to Compensation for Recruiting and Placing a Candidate
Finding and hiring talented employees can be a challenge for companies of all sizes. To help them in their search for the right workers, some companies utilize the services of a third party (external) recruiter. Recruiters work to find talent in a wide-variety of occupations, including, among others, in the legal, medical, and wealth management industries.
Once an employer decides to hire a recruiting firm or a recruiting firm reaches out to an employer about hiring a particular candidate that has been vetted by the recruiter, a formal or informal (verbal) agreement may be worked out between the two parties. Often, there is an understanding between the parties that the recruiter will get paid for the job placement services.
Most recruiters charge their clients in one of two ways:
Using a retained fee structure (an upfront, guaranteed fee paid to the recruiter for finding and placing a candidate)
Using a contingency fee structure (a performance-based fee based on the employee's first year compensation or production)
The parties should also agree on when a recruiter is eligible for payment. For example, the contract might state that the recruiter earns a fee following the employer's offer of employment and the candidate's acceptance of the offer.
Most contracts or agreements also describe the criteria for a valid candidate, including, among other numerous possibilities, if a candidate is hired within 24 months of the date the candidate is introduced to the employer, or if a meeting occurs within 60 days of the candidate's submission and the candidate is hired within 12 months.
While the actual terms may vary, the terms that the recruiter and the employer agree upon, informally or formally, create a contract that both sides are obligated to uphold. Failure of either party to meet any of the terms agreed upon by the parties could result in a breach of contract and form the basis for a legal claim.
The Business Trial Group Helps Recruiters Who Don't Get Paid
Our breach of contract attorneys have successfully recovered money for recruiters who, despite meeting their contractual duties, have not been paid compensation by employers. In fact, we are currently working to resolve several recruiter nonpayment cases.
One case involves a recruiter that was allegedly not paid after placing candidates in the wealth management industry. Ultimately, the wealth management firm accepted and hired the candidates submitted by the recruiting firm, but breached its agreement by failing to pay the recruiter any compensation.
Our recruiter clients pay no hourly fees, and no fees at all unless we recover unpaid compensation for them.
The other case involves a claim on behalf of a recruitment firm involved in the placement of executives and professionals. In this case, the recruiter placed a highly-qualified candidate in a Human Resources director position at a franchise restaurant chain. Ultimately, again, the hiring entity accepted the benefit of the recruiting firm's efforts, but allegedly failed to pay the agreed-upon placement fee.
While we are always open to resolving cases through settlement, we do not hesitate to go to trial if our recruiter clients are not satisfied with the employer's offer. And as contingency-fee attorneys, our clients pay no hourly fees, regardless of whether the case is amicably resolved or goes to trial.
If you are a recruiter who successfully placed a candidate but was not paid a commission, contact Aaron C. Garnett at agarnett@forthepeople.com or submit a free, no-risk case evaluation.